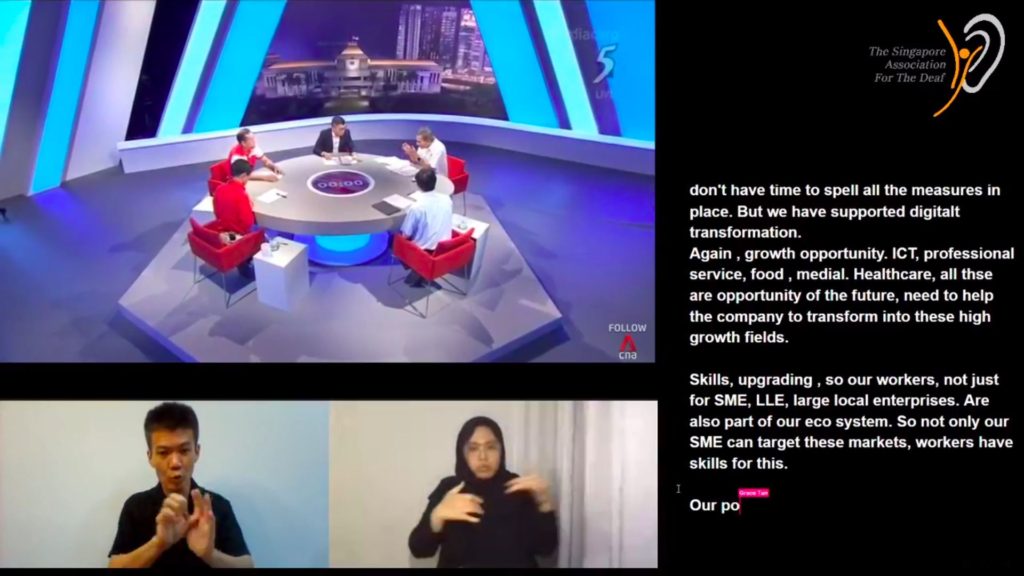 "Do we need to wear masks"?
"Will there be a lockdown?"
"How do we keep safe?"
Due to the COVID-19 crisis and the many uncertainties it brings, people are naturally more eager for news and updates. Likewise for the Deaf and hard-of-hearing community. Knowing this, the Deaf Access Service (DAS) department went all out to fulfil a core task amid this challenging period: To provide timely and accessible information to the Deaf and hard-of-hearing community.
Along the way, we managed to achieve many firsts as well!
Among them is access to live announcements, public speeches, and press conferences – via live notetaking and interpretation services. These were broadcasted alongside the official video feeds (from Medicorp, CNA, etc) on our SADeaf Facebook page.
Another important step DAS took was to cover live events of national importance such as the Budget speeches, prime minister's addresses to the public on the COVID-19 situation, May Day speech, Singapore GE2020 live debates, and voting results (comprising a marathon seven-hour session!), and National Day Parade.

Many of these marked the first time sign language interpretation and notetaking were provided. And for many deaf and hard of hearing people, it was, too, their first experience of instant access to such live events.
Oh, We Also Go Remote
Circuit breaker measures also prompted the team of interpreters and notetakers to deliver services over digital platforms.
Just like most other workers affected by the circuit breaker measures, the DAS team had to adapt suddenly and rapidly, and we did. We converted our homes to makeshift workstations and studios on short notice. We battled poor internet connections, bad lighting, garbled audio, privacy woes, and other novel issues ("How does this Zoom thingy work ah?"). We learned to be flexible and innovative to find workaround solutions to still be able to provide access to clients.

It was a tough learning journey indeed.

And we could not have done it without the understanding, patience, and support of all of you – our clients, partners, and organisations that engage our services. The DAS communication access team is grateful for the feedback from the community on making our services even better.

We look forward to hearing from you and working with you – again!
By DAS (Communication Access), SADeaf